"Time flies when you're having fun." That's actually an understatement for what felt like a downhill "full throttle" for the past five years. Sometimes pedaling on the outside leaf, but also sometimes having to close up in the corners. Somewhere between toe-curling stress and enjoying the speed and the wind whistling in the ears to the fullest.
My love of cycling, racing and its heroes of the asphalt, like many Flemish children are intertwined with family moments. Watching together with father, uncles, brothers, cousins and friends what later turned out to be legendary rides and rounds. As a child of the '90s, for example, I remember the one-on-one battles between Indurain and Tony Röminger. From which the latter won the golden jersey in la Vuelta in 1993 and later also captured the polka dot jersey in the Tour de France. Epic battles of climbers against the high mountains or hard riders against the clock. Those will always stay with me. Because of them I started cycling myself and longing for cols and mountains.
I learned the craft of printing in high school. Because I wanted to learn more creatively, I went to study graphic design at St. Luke's in Ghent. The time of my life. That's where the name The Vandal first appeared. Then only in the form of hip stencils on boring walls. However, the love for cycling and everything around it was never far away. The theory of the studies was later put into practice at Shanti Productions in Antwerp. Designing and printing textiles became my daily occupation. It didn't take long before my passion and my work found each other. First with custom painted bikes, homemade bicycle handlebar antlers and outdoor tire keychains. Soon after with some first designs about the bike, the race and its iconic heroes. They sold well. Family and friends were enthusiastic and I got the hang of it. It wasn't long before I put a name on it. The Vandal was born. We're writing sometime in the year 2013.
With a small heart, I visited some stores I thought might be interested. Some bike stores like Rijwielen Smets in Deurne or a concept store "avant la lettre" Talent in de Buurt, in the street where I lived at the time. They saw something in me and gave me the necessary confidence to continue. More and more people crossed my path who saw potential in my idea and believed in The Vandal. A brand specifically aimed at the racing enthusiast did not yet exist. Via via, I came into contact with racing legends such as Johan Museeuw or starting pros such as Kris Boeckmans. The course of The Vandal began to take shape. The chalk lines were set.
Marketing a brand on a modest budget means, above all, hard work. Starting a webshop myself, looking for new retailer clients, creating designs, marketing, production, packing orders,... Doing everything myself and all of it often after hours and even more often than desired into the early hours. At the same time, I was also creating custom designs for all kinds of occasions. From traditional bachelor party T-shirts to professional corporate clothing and sponsorship materials.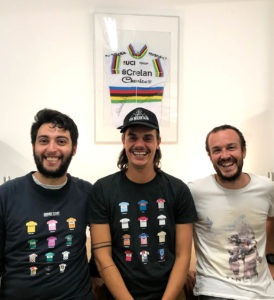 After at least two years, combine a full-time job and your own business, I decided in 2016 to take the big step toward full-time entrepreneurship. From then on, The Vandal received my undivided time and attention, which ensured that growth accelerated even more. In 2018, The Vandal moved from where it all started, my garage, to a new professional workplace in Borgerhout. In the meantime, The Vandal has also become a real team. Together with Nils and Krys, we are building the future of The Vandal. A clothing brand with strong values for cycling lovers. From occasional cyclist or bike commuter to race fanatic or bike omnivore!
The Vandal - A Never Ending Passion for Cycling